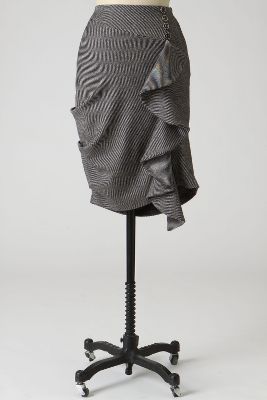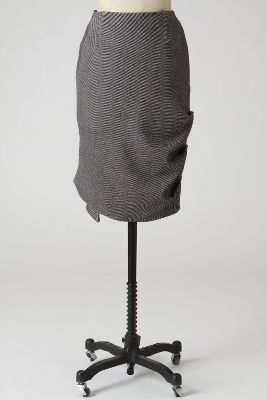 This is the Fluttering Pencil Skirt from anthropologie. There is one small problem---$158. I should never go look on that website. I see too many things I want. I have been stewing for awhile on how to knock it off. I asked for help on pattern review and there were several suggestions made for patterns.
NL6897
, View E and
Vogue 8129.
The Vogue pattern seems to fit better because it has a waist band that I could manupilate to make it V downward toward the ruffle.
Here is my dilemma: The ruffle on the anthropolgie skirt seems "flouncier" than the Vogue ruffle, but then I may be imagining things. How would I make the ruffle on the Vogue flouncier? Also, there are little "tucks" (is that the appropriate term?) on the left side of the anthropologie skirt. That is the left if you are facing the skirt. You can also see it on the back of the skirt looking at the right side of the skirt in the picture. It looks like the skirt has just been folded in the seam. Is that what you see? If anyone could offer any websites or tutorial on how I might use this Vogue to knock this off, I would be so appreciative.