I have a habit of looking at anthropologie.com and drooling over the clothing. I have drooled for about a month over this
Fluttering Pencil skirt
pictured above. I waited patiently for it to go on sale from its $158 price. It did not--it sold out!!! It is supposed to be back in stock, but it will just sell out again. I decided that I might could knock it off. My first concern was the flounce and the side pleating.
A wonderful blogger named shams has a blog called
Communing With Fabric
. Over at Stitchers Guild she gave me the most wonderful instructions for how to do the flounce. Then, without me even asking, she sat down and drafted the skirt and then explained in great detail on her blog
here
and
here
how to do it. That was the NICEST THING EVER!!! shams, thank you so much. I just followed her instructions and started with a very basic pencil skirt pattern--mine was from BWOF. I won't go into the details because it is exactly what she described on her blog, so I would just be repeating her. Here is mine:
Here is a side view of the pleating:
Whoops!!! My lining is too long--do you see it? Picture ARE worth a 1000 words. The fabric is from fabric.com. It is a mint/purple/ecru small plaid suiting fabric.
The shoes are Aerosoles suede "Self Pretty" from several years ago. Now, the next anthropologie skirt I want to knock off is this one: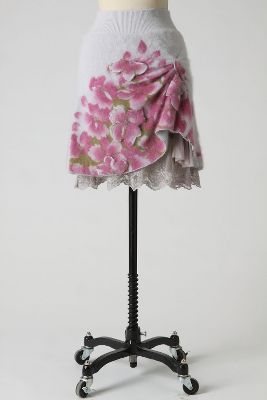 The design is not so much the issue in this case as finding the sweater fabric or a similar sweater fabric. The design looks like a simple a-line that has been pulled up at the side front and tacked down. Does that sound correct? But the fabric --has anybody seen it?