I fell in love with another anthropologie skirt awhile back--the Leifsdottir Honeyed Peplum Skirt. The minute I saw the name "Leifsdottir" I knew it was expensive. The retail price was $268. Leifsdottir makes gorgeous and unique, but overpriced clothing IMHO. Here are the stock pictures from anthropologie:
I decided to knock it off. I really didn't want the gold color but chose to make a purple one instead. I found this gorgeous purple 100% wool flannel fabric on sale at fabric.com during one of their clearances and decided to use it for the skirt.
I began with Simplicity 2605, view F.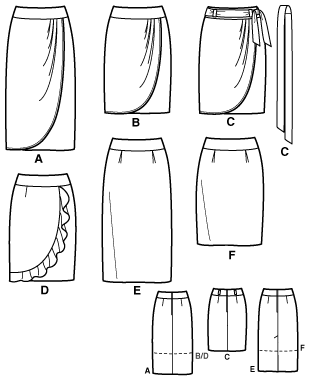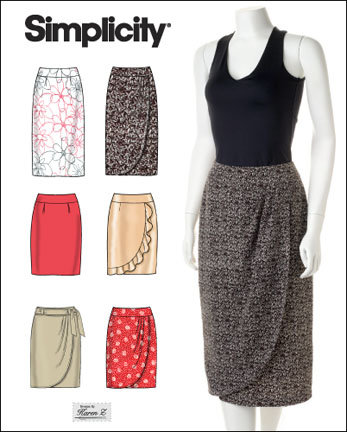 Then, I morphed the peplum piece from McCalls 5936 onto the waist of the skirt. I had to lengthen the peplum in order for it to be long enough to go around the skirt and also, I cut it in half in the back since my skirt zips up the back. Here are McCalls 5936 line drawings.
This is what I came up with:
Closeup of front peplum, front buttons, and back covered buttons:
My front peplum doesn't have pleats in it like the anthropologie skirt, and I like that better. Also, my back peplum is "flouncier", and I like that better, too. My buttons are tortoise shell-ish buttons from my local fabric shop.
I used some basic polyester lining that I bought at my local fabric shop for the inside. They didn't have purple, and beggars can't be choosers, since I have no Hancock's in this podunk town I live in. Also, I didn't want to wait to order any online. I decided to just use the color of a basic slip.
I did not make any alterations to the actual skirt. My only alterations were to the peplum so that it would work for the skirt. Here is a picture of my outfit with the skirt:
I will give outfit details. I love looking at fashion blogs and always appreciate when outfit details are given.
Black cardigan: Delias
Scattered petals camisole: JCrew (on sale -- I feel like I need to say that since I commented about Leifsdottir being expensive )
necklace: Avon (gift from my mother from about 20 years ago)
leopard heels: Nine West
Speaking of the heels, I leave you with a closeup: