If you have read my blog for even a short time, you know of my love for anthropologie clothing. Unfortunately, their clothing is sooooo expensive, many times even when it is on sale. When I see something I really like and think I can knock off, I try to do so. This anthropologie Tria Sweater Skirt was one such piece.
Here is the anthropologie version: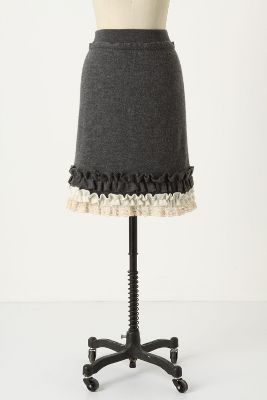 This was described on the anthropologie website as being a wool sweater skirt. I knew as soon as I saw this I have to have it---or my knockoff version of it. I love me some ruffles. When it went on sale, I actually placed an order for it on the anthropologie site with some Christmas money I had. However, my order got cancelled by anthro due to them running out of skirts. I am so thankful they did, because I made my own and saved alot of money in the process.
I looked for some charcoal heathered gray sweater fabric, but I could just not find any that I liked. I decided to use a double knit fabric because I wanted it to be thick. I ordered some charcoal gray double knit from voguefabrics.com. It is called "Aggravation Charcoal." I thought that was an interesting name and hoped that the fabric would not live up to it. Well, it was not aggravating.
I knew I did not want to make an elastic waist because the anthro version has a fabric waist band. I had never done one of these before so I decided to just go with my TNT pattern for skirts, S2605 View F. It is definitely TNT because this is the fourth time I have used it. I blogged about 2 other times and I still need to blog about the third time using it. I haven't blogged about the third use of it because it was just a simple skirt--nothing too exciting.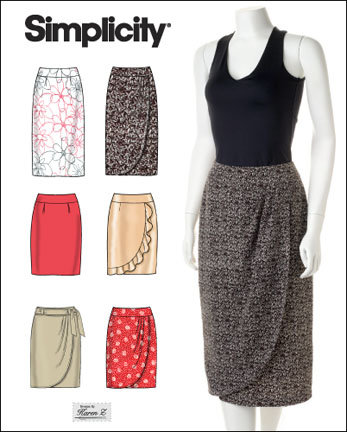 After making a muslin, I went down one size. This pattern is not for knits, so I figured I would have to go down a size. Truthfullly, I probably could have gone down 2 sizes, but it sits comfortably below my waist with the size I made. I left the darts in the pattern because I don't know how to remove darts. I omitted the zipper since this is a knit, and I did not interface the waistband. I wanted to make sure it was stretchy enough.
To make the ruffles at the bottom, I used the skirt fabric for the top ruffle, some leftover $1.95/yd Vera Wang jersey from fabric.com for the ecru colored ruffle, and some eyelet from my stash for the bottom edging. I originally sewed all the strips together to make one long ruffle, but it was just too much to handle. I ended up make several ruffles, tying the threads at the ends leaving a seam allowance, and then seaming them together. You can't even see the seams because they blend in with the ruffles.
Here are some pics of my knockoff.
front
closeup of ruffle
If you look closely at the anthro skirt vs my skirt, there is a slight difference in my ruffle colors. My middle ruffle is ecru and my eyelet is white, whereas the anthro version is the opposite. I decided to work with what I had instead of going out and buying new stuff.
Here is the first outfit I wore with my skirt Sunday to church.
Sweater Vest - JCPenney
Turtleneck - Peebles
Belt - Charlotte Russe
Boots - Baker's Shoes
Dark red tights - McRae's (just before they went out of business)
Jewelry- Christmas gift
Here is the second outfit I wore with the skirt to work yesterday.
Cardigan: Target
Blouse: JCrew Outlet
Belt - Charlotte Russe
Shoes - Payless
Necklace - F21
Dark Green Tights - McRae's again (they were having a huge going out of business sale)
A couple of posts ago I featured a
jacket
I made. I finally wore it to work today, so here is my outfit with it.
front (my goodness, that is a weird pose)
blouse - Ann Taylor
pants - Express Columnist pants
Eggplant Mary Jane Heels - Parisian (before they went out of business)
back
I have a couple of more skirts to show you that I have made. I have been on a tear lately...or is that "tare". Anyway, I will show them to you as I wear them. Both are inspired by anthropologie. They are not knockoffs, but they have the same vibe as the anthro skirts that inspired them.