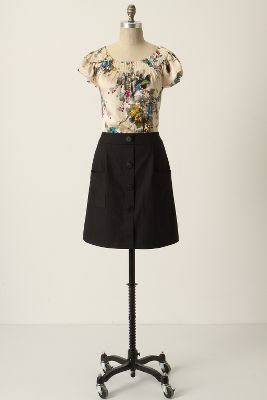 Night Blooming Dress-anthropologie
About a year ago, anthropologie came out with the Night Blooming Dress. The bodice was a beautiful silk with birds and flowers on it and the skirt was a black fabric (I am not sure what type of fabric). It had pretty pleating at the neck. But, it retailed at about $150-ish as many anthropologie dresses do. I knew this dress would be a difficult one to knock off, not because of the style of it, but because of the fabric. You can see a closeup of the bodice
here
. I chose not to post a pic because it is from someone else's blog and I think I should probably link instead.
The style of the dress is actually pretty simple, but finding similar fabric was another matter. I looked and looked and finally gave up. A couple of months ago, I was fabric shopping for something totally different and came across this lovely piece of cotton fabric by Alexander Henry. I bought it
here
from Hancock's of Paducah.
Alexander Henry fabric
Even though it is not silk, it immediately reminded me of the bodice of the Night Blooming Dress. It is a high quality cotton that actually feels like a nice linen instead of what I think of as cotton fabric. I knew this was probably as close as I was going to get, so I ordered it. I also ordered some black linen/rayon blend fabric from fabric.com. I looked through my patterns and decided to use the pleated bodice and puff sleeves from S2724 and the skirt and waistband from S2403. I also added the pockets that the pattern called for. I don't have a dress with pockets so I thought they would be a fun change.
badly fitting back
(sorry for the crooked pic)
The dress does not have a back seam so to fix this, I made the darts go lower in the back and also took a deeper seam in them.
much better fitting back
I chose not to line the dress. Since I was planning on using an invisible zipper and already had a waistband, I was afraid it would just make the seam too thick for one. I did not put buttons down the front of the skirt like in the Night Blooming Dress. The silk bodice of Night Blooming Dress adds some elegance to the dress. Since my bodice is cotton fabric, I knew if I put buttons down the skirt front, it would look too casual. I decided to use a less full skirt without buttons for a slightly more elegant look, not that I would call my dress elegant by any means. I think it is just a fun, Spring dress.
upclose of bodice
necklace: JCPenney
Eggplant patent Mary Jane Heels: Dillards (before they sold out to Belk)
I am thinking about adding a belt to the dress, but to make it stay put, I will have to add some belt loops. I am on Spring Break next week, so I am hoping to get some serious sewing done. Until next time...