I celebrated my birthday yesterday and finally got to open my gifts of fabric. I already knew what I was getting (I ordered it) but my husband said I had to wrap it up and open it on my birthday. I love it when other bloggers share fabric purchases, so I will share mine. I will also share my plans for it, but those plans are always subject to change. Here is picture of all of it laid out in all its glory.
I will describe it left to right from the back row to the front row.
The
first piece
is a rayon/lycra knit print from EmmaOneSock. Here is a closeup from the website.
I found out about this fabric from the wonderful blog
Welcome to the gOOd life
. This it the exact same fabric that the anthropologie
Gathered Hemlock Dress
is made from. Guess what I am going to do? Yes, I plan to make a knockoff, as did Sarah on her
blog
, but I am going to use
B5674
. I just have to wait until Hancock's puts the pattern on sale so I can get it.
Next up is this stretch cotton
ombre print
from Mood Fabrics.
I have been looking for awhile for a fabric to use to knockoff anthropologie's
Dreaming in Green Skirt
. I am going to have to take a basic pencil skirt pattern and draft the skirt from it. That will take a little work.
The
royal blue gabardine
on the back row is from Hancock's fabric. The first time I saw Victoria Beckham's
Carmontelle Dress
, I almost fell down from the beauty of it. There are lots of
images
of it online if you just google it. It also comes in gray, but for some reason, I want mine in royal blue.
S2282
is a close enough copy for me to be happy with.
The
tan striped fabric
on the back row is ticking from Country Curtains. I almost had a spell when I first saw anthropologie's
Bold Boutonniere Dress
last year. I have wondered what to use for the skirt fabric until awhile back Kristina on her blog, Kristina J,
made a knockoff
using ticking. I knew immediately I had to do the same thing. I am going to make the bodice of the dress from some ivory polyester poplin.
The very
psychadelic-looking fabric
that is on the back row is from Hancock's. It is one of their Linen Fancies. The print of it is just like a knit top I have and have always loved. I haven't the foggiest idea what I will make from it. Any suggestions?
Now we have made it to the first row. The
green striped fabric
is a polyester charmeuse from denverfabrics.com. I am thinking of making
V1190
with this fabric, but I am still debating that.
To the right of the green fabric is, I think, my favorite fabric of the bunch--if you can pick a favorite fabric--isn't that like picking a favorite child? It is
bright striped silk charmeuse
, also bought from denverfabrics.com. I searched far and wide for some fabric similar to the fabric used on
Kate Spade's Jeanette Striped Dress.
I am debating doing a shirt dress with the fabric like the Kate Spade dress, but at the same time, I am really liking
S2177
, View B for this fabric. Readers, what do you think?
The next piece of fabric is a rayon challis by Free Spirit. It is one of their Van Gogh splatter prints in green. I bought it from Pattern Loft on ebay
here
. I also got the pink version, too which is the last piece of fabric on the first row.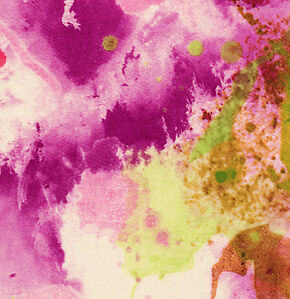 pink splatter print

green splatter print
I first became aware of this Free Spirit Van Gogh collection on
Green Apples
blog. I became obsessed with finding it, but it had sold out everywhere. I finally came across it on ebay. Interestingly enough, I was looking at fabric.com yesterday, and now
they have it
. I am debating making
V1161
from one piece of it, but I am not sure. Whatever I make from the remaining piece is still to be decided.
Finally, the fourth piece of fabric on the first row is a really pretty
black fabric
with polka dots and pleating that I got from Gorgeous Fabrics. I have been toying with the idea of making
V1176
with it, but I am not sure how the bow on that dress would work with the pleating in the fabric.
Well, I am certainly going to be busy. I imagine some of it will have to marinate for awhile before I figure out what to do, but I am looking forward to getting started sewing . Needless to say, I am doing a happy dance.
Thanks for reading. Happy Sewing!!!