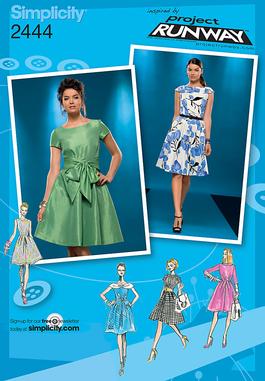 I think Simplicity 2444 is one of the prettiest patterns ever. The cape collar and the full skirt are just so girly. My
first attempt
at it was a wadder which then seemed to lead to a series of wadders. I decided it needed to rest for awhile before I attempted it again. A few months ago, I came across this cotton sateen on Fashionfabricsclub.com and knew I had found the perfect fabric for it. This fabric reminds me of lollipops, thus the name of the post.
I had to do some altering on the bodice of this dress after making a muslin. It just had a weird fit so I had to pinch out some on the front and back bodice. It had gaping in both the front and back neckline as well as gaping at the front part of the armholes.
darts drawn in where gaping (front bodice)
dart drawn in where gaping (back bodice)
folding to get rid of fullness in bodice front

folding out fullness in bodice back
When I laid out the bodice front piece on my fabric there was alot of wrinkling and bubbling in it due to the folding. It concerned me a little, but I forced the wrinkles and bubbling towards the bust area and smooshed it down as best as I could.
bodice front pinned to fabric
I had to fold out some equal fullness in the cape collar front and back pieces to match what I did on the front and back bodice. I am showing on the back collar piece below, but it was basically the same process as I did on the bodice pieces: draw in dart, fold out fullness, and smoosh down.
front bodice piece
collar back

Likewise, fullness had to be folded out of the front and back facing pieces, but that only required a straight fold as opposed to any weird angles. I also had to taper in from a 5/8" seam to a 7/8" seam at the shoulder seam to take even more fullness out of the neck. Then I tapered from 5/8" out to 3/8" at the side seam from the waist to the armhole so that I could breathe. After all of that altering, I achieved a really good fit. The topstitching on the collar and armholes was done with orange machine embroidery thread.
Here is the finished product:
front
bracelet: actually a necklace from JCPenney
earrings: some my sister got tired of (I love her jewelry hand-me-downs)
shoes: tan patent peeptoes from Steinmart
back
Happy Sewing!!!