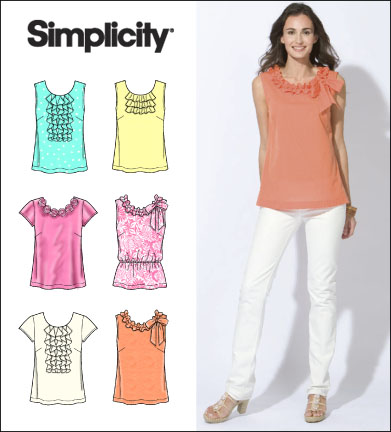 I bought this Simplicity pattern quite awhile back, but it has just languished in my stash because I like sewing pretty dresses the best. However, it is always nice to do something different and something that is quicker for a change. If it has a ruffle and a bow on it, I pretty much like it. I have had some aqua polka-dot polyester charmeuse that I bought from Hancock's a couple of years ago that has also languished in my stash, so I just decided to put the pattern and the fabric together using View E (the view pictured on the model).
fabric closeup
This pattern was truly easy to make and even the ruffle came together easily. However, the top is rather voluminous as you can see on the model. I debated adding the elastic casing at the waist as in View F to make it a little more fitted, but since I plan to wear it tucked in I decided not to do so. The only thing I did differently was to serge the edge of the ruffle and then turn it down and hem it as opposed to doing a narrow hem without serging as described in the instructions. The top is not lined, so I serged all the seams inside.
I am letting my dress form, Lady Burgundy, model it so you can see the entire top.
front
back
(sorry the pic is a little blurry)

Outfit
skirt--I made this skirt a couple of years before I started blogging. It is a lightweight polyester with a quilted effect to it.
Belt - Charlotte Russe
Tan patent peeptoes-Steinmart
Necklace-JCPenney
On a side note, my birthday is coming up next week and I have already picked out what I want. Is it a shiny piece of jewelry? Is it a statement handbag? Well, of course not---it is fabric--but some really nice fabric. Swooooooonnnnn!!!! My husband told me awhile back to order the fabric I had been wanting and it could be for my birthday. However, he said I could not sew it until my birthday and it had to be wrapped up so I could open it. Isn't that sweet? It is sitting on the floor in my living room wrapped up in boxes staring at me. My cat has tried to pull off the bows on the packages. I have big plans for this fabric that I will share with you in a couple of weeks after I get to open it. Until next time...Happy Sewing!!