The first time I saw this Kate Spade "Easton" skirt, I knew I had to make a knockoff. It is just so sunny and pretty.
My quest began with finding the right fabric. I searched and searched, but I could not find anything. Then, when I was looking for something else completely, I found the perfect fabric on fabric.com. This is how it usually happens. It is Michael Miller "Sunshine" Stripe. I bought it last year, but as is usually the case, it had to marinate for awhile in my stash while I worked on other things. When I finally decided to make the skirt, I just decided to eliminate the bodice of M5804 and use the waistband and skirt portion. I could not find a close enough skirt pattern in my pattern stash, and I did not
need to
want to go buy a new pattern. I need to work on sewing up what I have. We'll see how long that lasts. HA!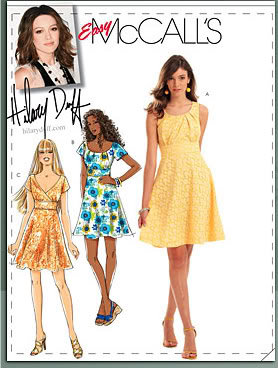 I had to tweak the waistband a little to make it curve into my waist by tapering into a deeper seam on its side seams. I inserted a back zipper and lined the skirt. The waistband was faced and the lining attached to the facing to achieve a nice clean finish on the inside.
I studied the bow on the Kate Spade skirt and tried to mimic it as closely as possible. It was just a matter of sewing strips of fabric together and interfacing the "bow" portion so that it would not droop.
I am wearing it for the first time to work today. If you notice, my stripes have a bit more of a wave to them than the original Kate Spade skirt because of the bias nature of the pattern. I am happy I got this made before the Fall weather begins to set in. Of course, here in south Alabama, it will be November before it gets really cool, so I am having a hard time getting into Fall sewing.
Here is how I wore the skirt:
Top, S2633 blogged about
here
Tan patent peeptoes
Bib Necklace, F21