When I first saw this outfit on Kate Moss, you could have tipped me over with a feather. It is STUNNING!!! I am not a Kate Moss fan, and I don't normally love the way she dresses, but she hit it out of the park here.
Ever since I saw this photo, I have been determined to recreate this outfit (or an inspired version of it). I already had in my possession M6041 and knew it would work to make a similar jacket. My jacket is not exactly like the Chanel version, but it is very close. I made View C with long sleeves.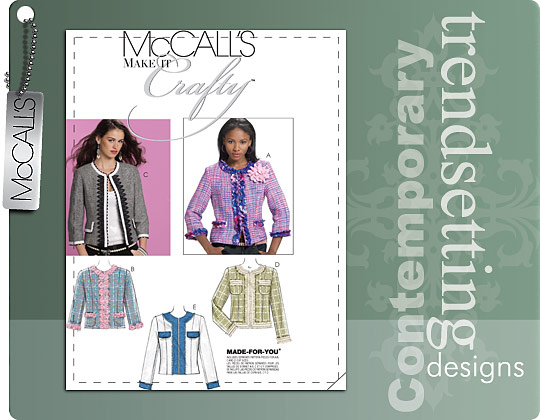 The fabric I used is a "Wool Suiting Texture Red" from fabric.com. This fabric has a pique-ish like texture to it and is a vibrant red. I read some reviews of the pattern on patternreview.com and the overall consensus was that the sleeves are too wide. I narrowed mine by taking a 7/8" seam. The jumbo black ric rac and ribbon was purchased at my local fabric store. It was not too tedious to attach, but it did take some maneuvering to get it to match up. The jacket is lined in some basic red polyester lining fabric.
I followed the instructions for the pattern exactly and made no alterations except for the narrowing of the sleeves.
front
back
lining
Here is my outfit that was inspired by the Kate Moss version. I decided to wear black skinny pants instead of jeans (since I wore it to work), and heels instead of flats. I have a pair of black flats, but I really don't like them.
Top: JCPenney
Pants: Gap
Shoes: Payless
Until next time...Happy Sewing!!