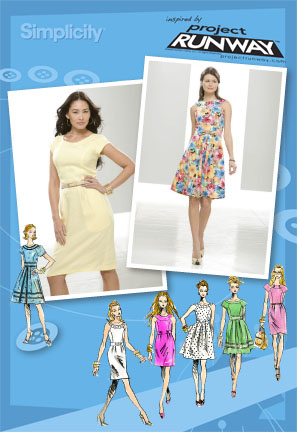 S2588
I became inspired to make my dress when I saw Jennifer Garner wearing this lovely dress. I considered apologizing for my pasty untanned skin, but if you look at Jennifer Garner, she is paler than me and I think her skin is beautiful. Maybe my pastiness is not so bad after all. Maybe I should rethink my use of tinted moisturizer. I really hate the smell of that stuff and it is sticky.
I just love the combination of navy and black, particularly the black leather. For several years I have had some navy suiting fabric in my stash that I bought for half price at my local fabric store. Last year I bought some black pleather which I used
here
to make a skirt. I have quite a bit left over so I decided to incorporate it into my dress plans. I really was not set on making my dress the same style as the Jennifer Garner dress--I just wanted the combo of navy and black leather. I decided to use S2588 because I thought it lent itself well to this combination. I used the black pleather on the neckline.
neckline
I just love Simplicity patterns because I hardly ever have to make any fitting alterations. Also, they are always on trend. This pattern was very simple to sew. I used a leather needle and placed scotch tape on the bottom of my sewing foot for sewing the leather. An exposed zipper was installed because on one hand, I thought the exposed black zipper would tie in well to the black pleather, and I did not want to have to install an invisible zipper with this leather. I used an invisible zipper in my
previous
leather peplum dress, but that leather was very soft. This pleather is heavier.
The belt is a patent bow belt that I bought last year from Forever 21 and the shoes are from Guess.
shoe closeup
Guess "Mikki"
Until next time, Happy Sewing!!!