If someone told me I could only wear one designer (and if I could afford that designer -I can't) it would be
Nanette Lepore
. I absolutely love her clothing. Take a look at some of her pieces past and present:
I have future plans for an inspired version of this one
I could go on and on posting pics all day. Her clothing is just so unique and ladylike. A couple of years ago I fell in love with her Prince of Wales Vest Dress pictured below.
front
back
I just absolutely became obsessed with it. If you want to get a really closeup look at it, Nordstrom still has it
here
where you can zoom in on it. I stalked it at several places online hoping it would go on major sale. Well, it did eventually go on sale, but not enough for me to buy it. Then I hatched a plan of doing an inspired version. It takes awhile sometimes for my plans to become reality. Other sewing projects get bumped up on the agenda for various reasons. Part of the reason it took me so long was that I could not exactly decide how I wanted to approach making it. I considered frankenpatterning a vest onto a skirt, but I could never get happy with that idea. My main concern was achieving the deep U-neckline. I finally came across the OOP Vogue pattern 8410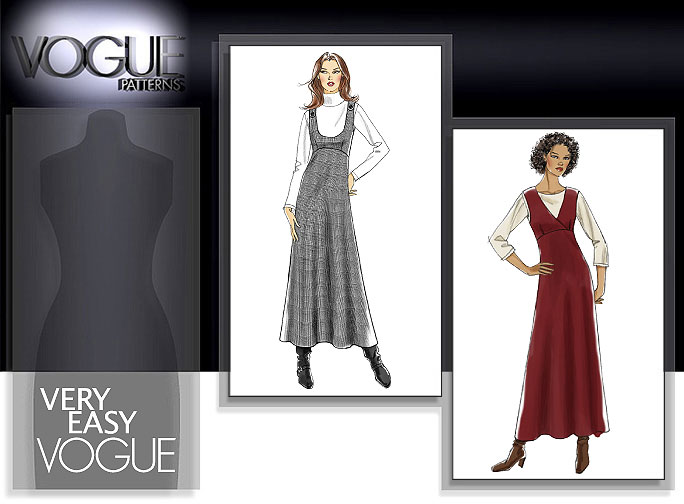 V8410
I just lowered the neckline a little further and eliminated the buttons at the shoulders.
back
I didn't add the belt at the back waist, but upon looking at this pic, I probably will. I think it makes me look a little wide from the back.
side
If you zoom in on the skirt at the Nordstrom link, the skirt has godets. This Vogue pattern does not. I had never inserted godets before, so I looked for tutorials online. (How did people learn to sew before the Internet?) I found
this one
. This tutorial calls this inset a gore, but the lovely posters who helped me on PR said it is a godet. I think they are correct. It was not too hard to set it in. The most tedious part was the point at the top of each godet. Also, I thought I was going to pass out when I cut into my skirt, but it didn't bleed. I put in 4 godets on the front and 2 on the back.
The gray pinstripe suiting fabric is from either fabric.com or denverfabrics.com--I can't remember.
top point of godet
neckline
I also set my buttons closer together than they are on the original dress. I sewed a total of 48 buttons on by hand. I don't want to see another button again for awhile. I am currently working on an Alexander McQueen knockoff, which I will post after Thanksgiving. Next week I am off to Nashville, TN for Thanksgiving to the Opryland Hotel's Country Christmas. I am super excited. Until next time, Happy Sewing!!