Awhile back I was perusing the internet when I came across Jennifer Garner wearing this stunning dress.
I almost had a spell sitting right there at the computer. I knew I had to try and do a knock-off since I could not afford the $3400 price tag. I did some manic googling and discovered that this dress is the Oscar de la Renta Scooped Neck Tweed Dress from the Resort 2010 Collection:. Here is how it is described:
Black and white scooped neck tweed dress. Black and silver beads trim the neckline, short sleeves and seams. A jewelled corsage sits in the centre of the neckline. A zip fastening runs down the back of the neckline. The skirt falls in box pleats to the grosgrain ribbon trimmed hemline that falls to mid thigh.
Oscar De La Renta scooped neck tweed dress is a modern take on the classic fabric using chiffon and net pieces interspersed with the wool. This fashion forward dress is a stylish and glossy look for day with towering heels and a statement bag.
37% Cotton 8% Wool 31% Polyamide 3% Flax 18% Acrylic 3% Viscose
Dry clean only
From the Resort 2010 Collection.
Here is a runway pic. Can you spot the difference between the runway dress and Jennifer Garner's dress?
After my maniacal search for information on this dress, I began maniacally searching for some similar fabric. I had just about given up when I was looking at Mood Fabrics one day, and came across
this
pale gray/black solid tweed. I decided it was as close to a white tweed as I was going to get.
After purchasing the fabric, I then began searching (maniacally, again) for some similar ribbon. After spending way too much time on the internet, I finally found some that would work at the
Ribbon Jar
.
I ordered two different sizes of the silver pinstripe ribbon
here
. I must say they have very fast shipping. It was in my mailbox within two days of ordering it.
Finally, I started constructing the dress. I decided to use the bodice and cap sleeves from S2444. For the skirt I used B5285, View C. I was concerned that I might have to make some adjustments to the waist on the bodice and skirt so that they would fit together properly, but the waistlines matched up just perfectly, so they just attached together with no problem.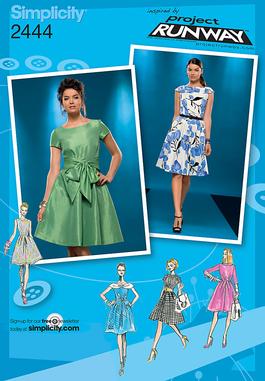 S2444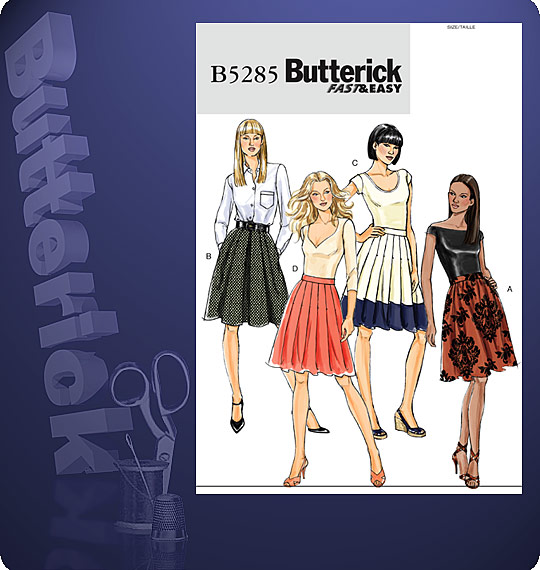 B5285
I have used S2444 a couple of times before, but I have never used the sleeves. I found that the cap sleeves had
way too much
ease in them. In order to remove the ease, I used this
tutorial
. You basically just trim off some of the edge of the sleeve so that it fits into the armscye better. Speaking of the sleeves, more on that later.
After constructing the dress and before installing the zipper, I sewed down all the ribbon. I trimmed the bottom of the skirt with basic black grosgrain ribbon bought at my local fabric store. Then came the task of finding a brooch to wear at the neckline. I searched ebay because I did not want to spend alot of money and finally found an inexpensive one that I liked.
Here is my dress. Notice that in the description of the dress it suggests wearing towering heels. Well, I did. I wore my black Payless heels that are a knock off of Christian Louboutin's "
Helmut
".
front
I don't know what the spot is on the RHS of my dress. I think it is just the picture because the dress doesn't have a spot on it.
back
I am very happy with my dress except for one thing: Do you notice the front part of the sleeves of my dress? I have little pleats forming in both of my sleeves that are almost mirror images of each other. They are not supposed to be there. I am not sure why they are doing that. It does not bother me enough to keep me from wearing it, but I do wonder what is going on? Does anyone have any idea? I suspect it has to do with the way I removed the ease. I was almost tempted to just gather the sleeves since they had so much ease, but I wanted as much of an exact replica of this dress as possible. Anyway, I wore it to church this past Sunday and received several compliments on it. No one said, "Gee, what are those little pleats in your sleeves doing there?" so maybe I shouldn't worry about. I think as seamstresses we sometimes notice sewing issues more than those who don't sew. I am a bit of a perfectionist, but I have tried to let some of it go in my sewing because that takes the joy and fun of it away. However, at the same time, I do want to do things correctly. Sometimes finding the balance between those two things is hard. Until next time, Happy Sewing!!