You can give a collective groan now at my "punny" title. Someone told me one time I needed to keep my day job. I think that Butterick 4978 is one of the most elegant dress patterns ever.
For some reason, though, it has been the bane of my sewing existence. I have tried two different times to make this pattern, only to not have it turn out well. The first time was sizing issues and the second time was scissor issues. I chopped into the side of my bodice and there was no fixing it. I set the pattern aside and went onto other things. A few months back I saw a gorgeous anthropologie dress called the "Lime Juice Dress".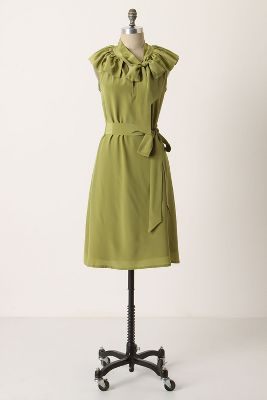 The style is cute, but it is more the color that I love. I was looking at Fabricmartfabrics.com one day and found some lime green polyester crepe de chine for $1.99 per yard. I knew it would work for my anthro-inspired dress, so I ordered 4 yards of it since it was so cheap. It sat in my stash for awhile as I searched for the appropriate pattern. Then, about two weeks ago, I thought about my B4978 pattern and decided to use it. I was very nervous given my track record with it, but I pressed forward.
The crepe de chine fabric is semi-sheer, so I lined the dress with the same fabric since I had so much of it. I experimented with ivory and white lining, but it made the color look different. There was lots of hand sewing with the pattern given the bias neck band and the fact that I chose to do a
handpicked zipper
for the first time ever. This fabric was TERRIBLE at pulling when I sewed seams together, but thankfully, the pulls ironed right out and were not visible in the fabric after ironing. I used an appropriate needle, so I don't know what the problem was. I knew that if I tried to insert an invisible zipper, I would pull my hair out. I really didn't want to insert one with the sewing machine anyway because of the tendency of the fabric to pull. That is when I decided to do a handpicked zipper. I had never done one before, but it went quite smoothly. I like hand sewing and find it very relaxing.
Strangely enough, I ended up doing a baby hem with the sewing machine instead of hand sewing one. I serged the bottom and turned it under, sewed it down, and then turned it under again. Amazingly, I had no pulling in the fabric when I did that. Go figure.
I also used sew-in interfacing instead of fusible because of possible crinkling of the waistband. As far as the pattern was concerned, I followed the instructions exactly with no sizing alterations. Here are pics of the front and back.
I am extremely happy that the third attempt at this dress was a success, even though I did manage to poke a tiny 2mm size hole in the left side of the bodice with my scissors. What is it with me and this pattern?!?!? It is not noticeable, though, and I am pretending it is not there. It is hidden among the gathers in the bodice.
Here is a closeup of the shoes:
Poetic License "Exclusive Delight"
Happy Sewing!!