Upon seeing Stella McCartney's "Milly" dress I knew I wanted to make a dress inspired by it.
The back of it has some white panels, but I could not find an image of the back that would copy, but you can click on the link above and see it. I love the color-blocking trend and when I saw that this dress involved mixed materials and color-blocking, I knew I had to make an inspired version.
My dress is not the same style. I used M6028, view D.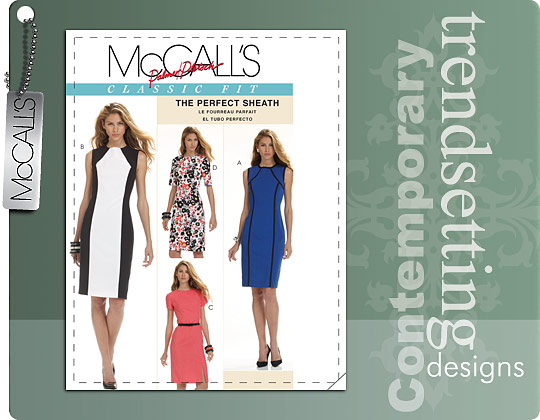 Please forgive these pictures for being a little dark. I could not get outside to take these pictures, and the lighting in my living room has been weird lately. I think I need some new bulbs.
I originally bought some
brown tweed
from denverfabrics to use but when I placed it beside my other fabric choices, it just did not look right. I decided to use some black and white
tweed
that I purchased from Mood Fabrics for the front panel. I first used it
here
. The royal blue, black, and white
ponte knit
is from Hancock Fabrics. I have sewn with double knit before but never with ponte knit.
I have some wrinkling going on in the back that I think is caused by the exposed zipper. I originally installed an invisible zipper, but this ponte knit did not like it at all. The fabric did not lay down correctly at the seam. If I can get the dress over my head without unzipping the zipper, I may just remove it. However, I don't know if that will work because ponte knit does not seem to have as much stretch as double knit. I may just move it to the side, or, better yet, pretend it doesn't bother me.
I have had this pattern in my stash for awhile and thought it would work well. It was very easy to sew, well-written and went together pretty quickly. I have worn this to church and may wear it to work, but I tend to wear different styles to work that I do church. I usually wear dresses to church and, for work, I wear skirts (or pants) tops, and cardigans. Until next time, Happy Sewing!!