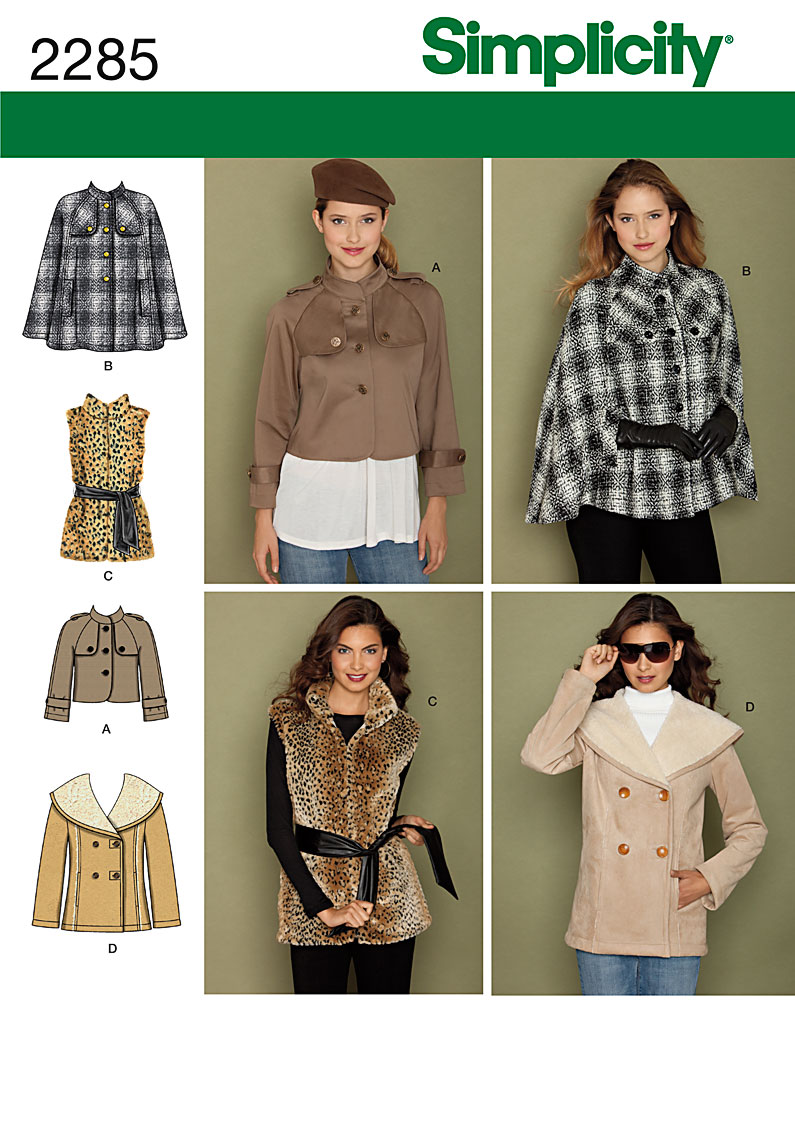 S2285
I have been seeing fur vests everywhere for quite sometime. I decided I needed one so I began to look for some fabric. I spotted
this
beautiful leopard print fur on Moodfabrics.com and ordered it to make my vest. I like the fact that this fur is low pile.
Having never worked with faux fur worried me a little, but I found lots of tips online. Here is an excellent
tutorial
. One of the tips was to use a razor blade for cutting out the pieces. I tried doing that, but it just did not work for me. I don't know if I just didn't know how or if it was my impatience--probably the latter. I just got out the scissors and cut it like I do normal fabric. I figured it really didn't matter since those edges would be sewn in a seam anyway. Once I got it all cut out I took the pieces out on my front porch and shook them out really well. There was fur flying everywhere.
To construct the vest I used a heavy needle and just treated the fabric like I would any other fabric. It was not the most physically easy sewing experience I have ever had, but I persevered. The lining I used was from my stash--my ever growing stash. I followed the instructions for the pattern exactly and it was really easy to understand. The lining is brown polyester.
lining
In the process of my research on faux fur vests, I saw this fabulous fur vest that Kathryn, one of my favorite bloggers, had made. You have to arrow down to December 10, 2012 on her
blog
to see it. I can't seem to link directly to it. She used a stunning
faux fur
fabric from Hancock Fabrics. I usually don't care for long pile fur, but this one is so pretty that I had to have it. It reminds me of a peacock and I love fabric that is peacock-themed .
I used the same vest pattern and made it out of this lovely fur except that I omitted the collar. I used the same process as on the previous vest. I found that with this longer pile fur, I had to be very careful to keep in to the side as much as possible of my needle when sewing so that I did not end up with a mess in my seam. The lining is a blue polyester.
Unfortunately, I have not been able to wear these vests as much as I would like because we have had an extremely warm winter. There have been a few cold days here and there, but it has mostly been in the middle 60's. I thought last year's winter was warm, but this one is taking the cake. I really don't like it but there is nothing I can do about it. Maybe we will have a little more cold weather before Easter.
The jeans I have on in this pic are peacock print skinny jeans from Target that I got off the sale rack. I thought they went well with my peacock-y vest.
Happy Sewing!!